The P25 Network for Locals
Welcome to the Spring 2017 edition of the RACOM Repeater! Thanks for taking a moment to catch up. The most frequent question I'm asked lately is, "What is the SARA Network?" Here's a quick overview and update to the SARA Network. SARA stands for Shared Area Radio Agreement. SARA is the connection of dozens of 700 MHz and 800 MHz P25 trunking (both Phase I and Phase II) radio towers (both simulcast and multicast) across the state that are owned and controlled by multiple local jurisdictions and some by RACOM. The SARA network started with the seamless connection of the P25 networks in Johnson and Linn Counties and has now grown to P25 networks in multiple Iowa Counties (see map).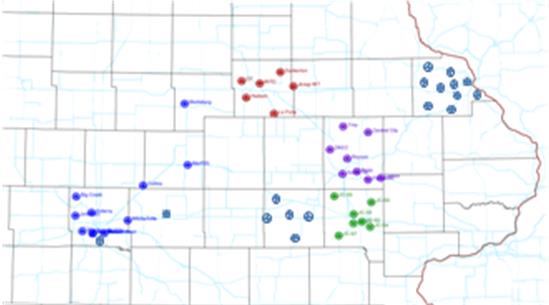 Some people might ask, "This sounds like the State ISICS network. How is it different?" Great question. SARA is different than ISICS in several meaningful ways that make it simply the best choice for local first responders.
Better coverage
The SARA network coverage footprint is custom designed for the portable in-building coverage needs of local public safety agencies. We have predominantly found that local agencies want to get away from using cumbersome vehicular repeaters to enhance coverage. Consequently, we design coverage to their needs — and no one else's. You'll find simulcast (versus multicast) is used to improve in-building portable radio coverage far more prevalently in the SARA system than in other designs. Today, there are 48 P25 sites on the air or being installed in 9 counties= >5 sites per county. The ISICS Network design is <90 sites in 99 counties= <1 site per county …
Local control and governance
Because the SARA network P25 infrastructure and frequencies are mostly owned by the local agency, they control all the important decisions about the system. Local Police Chiefs, Sheriffs, Communications Directors, Emergency Management professionals and 911 boards have always made the best decisions about local public safety communications needs and the SARA solution places ultimate control of who is on their network, what priority they have, type of equipment they use and who they have interoperability with in their hands. They neither want nor can risk putting these responsibilities in the hands of non-local officials. RACOM and SARA never forget that the local agencies are always in charge.
Lowest cost
In the times that ISICS and SARA have competed against each other — SARA has proven to be the lowest total cost of ownership over the life of a system. Costs are also locked in for the life of the system. ISICS costs and fees are dependent upon upcoming budgets, legislative support, and contracts to be negotiated with vendors in the future.
Improved interoperability
The SARA Network started first and consequently is larger. The collection of SARA agencies and P25 towers on the network today and those being added in 2017 make it the largest P25 trunking system in Iowa. Four dozen towers in nine counties and >7,000 users. Right now, SARA offers a greater level of interoperability than any other system. Even ISICS users in and around Polk County have seamless and no cost access to this network today for interoperability purposes.
System integrator, not manufacturer
SARA is not maintained by a manufacturer like ISICS but by a system integrator and/or the local entities themselves. While we understand that land mobile radio (LMR) is likely the most important part of your communications system of technologies, it is not the only one. Your LMR system must work in concert with and be integrated to your 911 telephone, fire paging, fire station alerting, dispatch console, and in vehicle solutions. At RACOM, we're devoted to your total cause and help users with their entire suite of mission critical communication products so they work together to make sure the first response equation is efficient, safe, and productive.
Choice of radio
SARA users today use P25 radios from Harris, Kenwood, Tait, Motorola, and EF Johnson. Local end users make the choice of the type of radio that fits their mission. The P25 pledge of multi-vendor interoperability is clearly being fulfilled on this network. The SARA network also seamlessly connects P25 radios to the BeOn Smartphone application in a patented way — delivering secure, P25 encrypted communications anywhere.
Most reliable design
The SARA solution provides for local master control switches, not switching centers located outside of the county many miles away. This leads to the highest levels of system reliability and control.
Not a one size fits all
700/800 MHz P25 trunking might not be the right solution for everyone. Dozens of counties are choosing to upgrade and stay at VHF for multiple good reasons. SARA allows each agency to make the choice of LMR system that is the best for them and still allow the connection of that system (via gateways and/or multi-band radios) to SARA P25 users.
Collaborate, connect, communicate, and control: SARA is the right marriage of the best local in-building coverage with region-wide interoperability without sacrificing local decision making.
Thanks for your time — enjoy the newsletter!